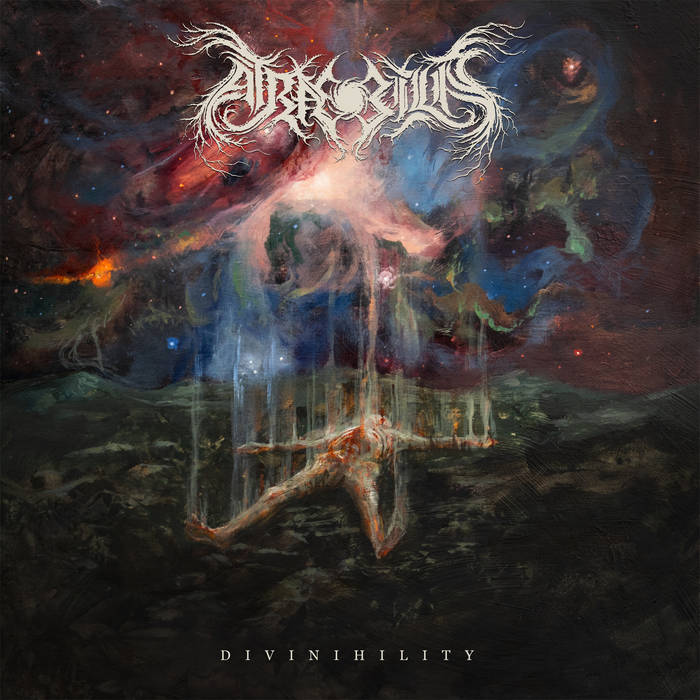 Review by Sandre the Giant
Canadian tech death maestros Atrae Bilis have brought their spiralling complexities on their new album, 'Divinihility', out in August through Transcending Obscurity. Expect a bewildering cocktail of brutal and technical death metal.
After the jagged complexities of instrumental opener 'Gnode' giving you a rough idea of where this album is going, the soul squeezing brutality of 'Sulphur Curtain' comes barrelling into you, replete with a powerhouse drumming performance that somehow keeps up with the intricate riff patterns and tempo changes. The dissonant guitar work in the superlative 'Phantom Veins Trumpet' creates more variety in three minutes than many bands manage in an album. There's clearly a lot of Gorguts influence here, along with some Ulcerate and perhaps some more brutal options like Dying Fetus or Depravity. Not enough bands these days are referencing Gorguts for my liking, so I'm on board with this.
The TO label sampler including 'Ectopian' on their playlist and I can see why. There's an infectious chug to it that burrows into your mind like a parasitic worm, laying eggs that burst into breakdowns and surprisingly memorable passages. Normally overly technical death metal can just become an exercise in overkill, but Atrae Bilis handle it well. I mean, there is the oppressively dense 'Upon the Shoulders of Havayoth' but hey, if you can play like that why wouldn't you show off every so often?
'A Ceremony of Sectioning' brings us to a juddering, cavernous close and 'Divinihility' is over too soon. Asides from being too short though, the music here is tremendous; varied and highly skillfull while remaining tight enough in the songwriting department to ensure that you'll remember a couple of the tracks for a long time. Hopefully on their next release we can get a lot more!
https://atraebilisdeath.bandcamp.com/
https://www.facebook.com/atraebilis
https://www.facebook.com/transcendingobscurityrecords/