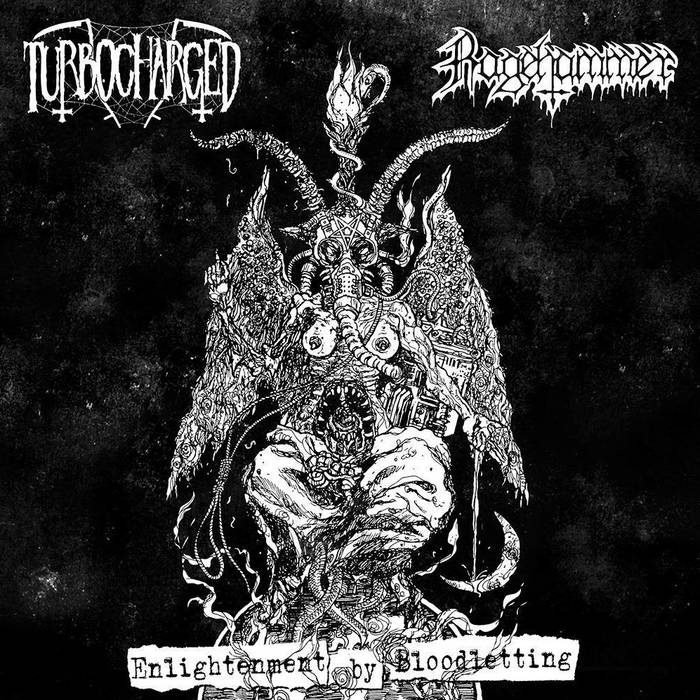 This black thrash split between Swedish ragers Turbocharged and Polish devastators Ragehammer promises to be pretty fucking good, and each band provides a new song to the 7″ vinyl release, entitled 'Enlightenment by Bloodletting', out now on Godz ov War Productions.
Turbocharged's contribution is a waspish, high speed attack of razor guitar riffs and a galloping, Sodom like thrash. There's a crusty, d-beat rage here which is pretty cool, that channels a bit of Swedsh death chainsaw riffing too. Ragehammer's 'PanzerFaustian Enlightenment' is a more direct, black metal approach, with an underlying emphasis on speed and blasting. Of the two tracks, I think I just prefer this one, only just though.
Both tracks sum up what makes each band good, and that's what all good splits should do. Turbocharged chainsaw their way in while Ragehammer slash in with cold, metallic riffing. Yet more awesome stuff from Godz of War Productions, and you should definitely try and get a hold of this!
http://godzovwar.com/shop/en/main/508-turbocharged-ragehammer-enlightenment-by-bloodletting.html
https://godzovwarproductions.bandcamp.com/album/turbocharged-ragehammer-enlightenment-by-bloodletting