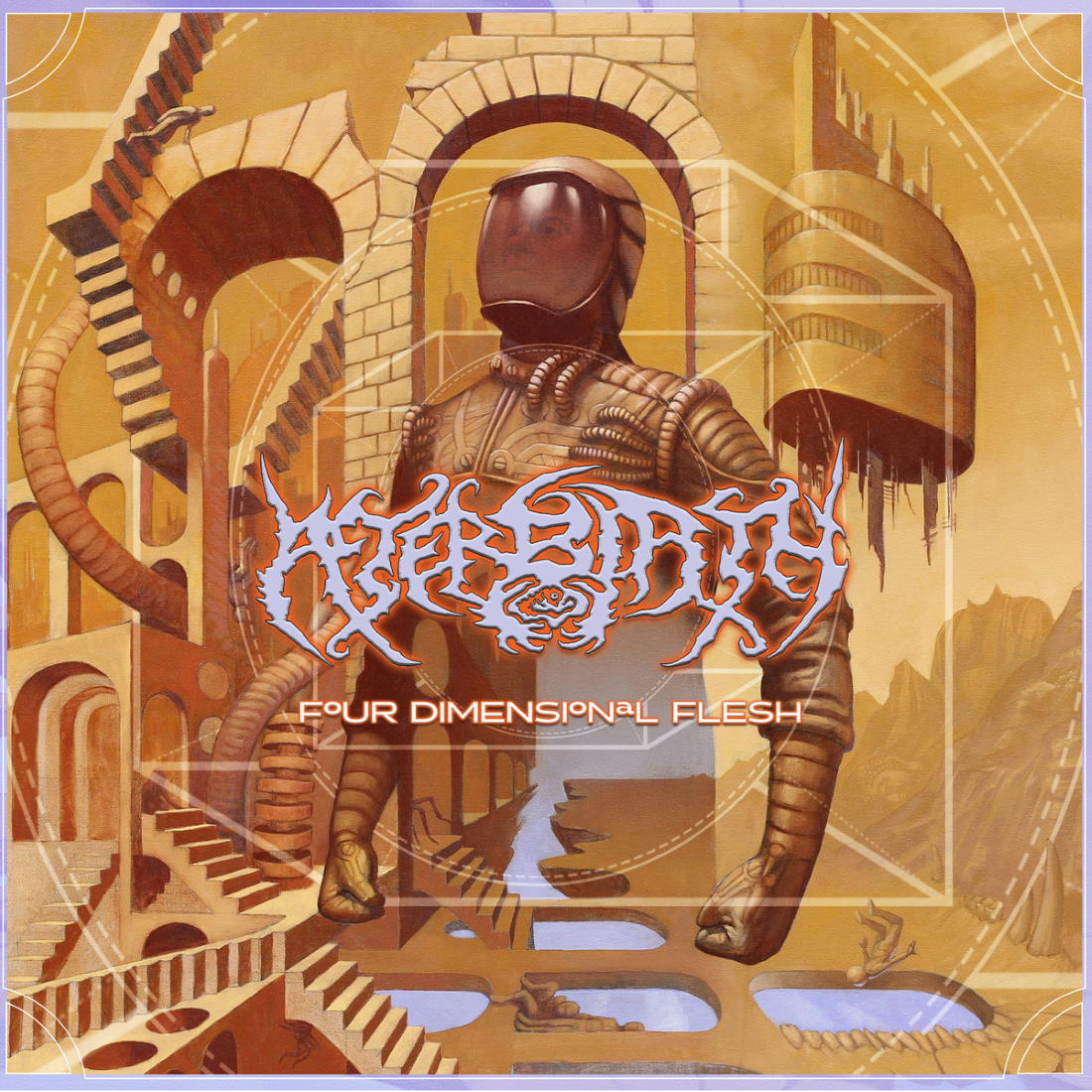 Long Island's Afterbirth have been caving skulls since 1993, and their pioneering brutality shows no sign of softening with age on their newest release, 'Four Dimensional Flesh'. It is however evolving into new and intriguing ways and taking us in directions hinting at through that gorgeous, 'Dune'-esque artwork.. It is out now through Unique Leader Records.
'Four Dimensional Flesh' is an interesting dichotomy. With the bulldozer crush of 'Beheading the Buddha' or the slamming gutturals of 'Never Ending Path', Afterbirth hit all the genre standards. There are some very nice flourishes though, like the gross rumblings and almost Atheist-like atmospheres of 'Spiritually Transmitted Disease', but the real surprises are the progressive metal interludes, replete with synth and the kind of glacial melody that Devin Townsend has perfected. I did not see this coming when I turned this on. On the previously mentioned 'Never Ending Teeth, the latter half of the song is a thrilling mix of the guttural and the sublime spaciousness. 'Dreaming Astral Body' feels like a perfectly dreamy bridge between the styles, like a rainbow bridge between dark voids.
A truly enigmatic and exhilirating listen for brutal death and prog metal fans alike, 'Four Dimensional Flesh' plays on your expectations and delivers with power. The expansive 'Blackhole Kaleidoscope' or the destructive 'Swallowing Spiders', either will sate the hunger of all but the most jaded of extreme metal fans. 'Four Dimensional Flesh' is nuanced, evolutionary and markedly different from most of their peers, and for this Afterbirth should be applauded.
https://www.facebook.com/AfterbirthNYDeathMetal/
https://uniqueleaderrecords.bandcamp.com/album/four-dimensional-flesh