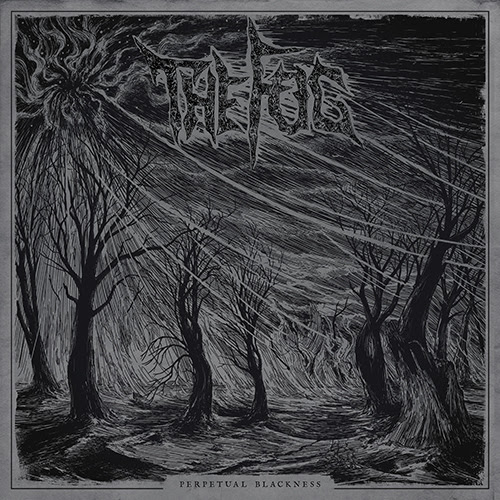 'Perpetual Blackness' is the debut offering from Germany's crushing death/doom merchants The Fog. A crawling, morbid slab of Teutonic terror, 'Perpetual Blackness harkens back to the nasty trudge of Hellhammer, Winter  and early Morgoth, and it is out now through Memento Mori Records.
'Inaneness' opens with a brutal, relentless drag through the darker reaches of the riff. Primal murk obscures an obvious black metal influence, while each riff cascades down upon you like the inevitable fall of planets. 'Crawling Doom' is, ironically, anything but. It's a violent mix of crushing Swedish death metal and an Autopsy like sludge. 'Entropy Pillars' drags us back into more familiar territory, with a raw rumble of doom.
The whole of 'Perpetual Blackness' is shrouded in a density, a groaning decay like that affecting the trees on the cover art. 'Creeping Lunacy' has a positively sickening guitar tone, and has a hypnotic chainsaw riff that runs through the middle of it, leaving a gaping wound of ragged growls. 'Gloom Shoals' is almost painfully heavy in parts, while the title track is ancient death metal art.
Closing with the monolithic destruction of 'Grievous Scourge', The Fog have got this primal death/doom sound nailed. 'Perpetual Blackness' is a record for those who enjoy a nihilistic crush in their life. As dark as the eternal void, and heavier than Hell itself.
https://www.facebook.com/thefogdoom/