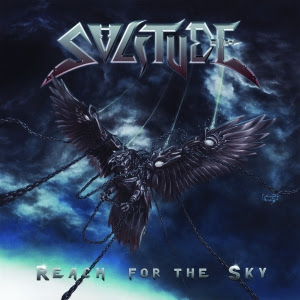 Japanese trad metal heroes Solitude are representing TRUE METAL in all caps. 'Reach for the Sky' is now available further afield after a Japanese only release in 2015, and is bringing the riffs in spades. If you like the sound of NWOBHM brought into the 21st century via some Exodus and Tank, then I think Solitude are going to be right up your alley. Test Your Metal Records are handling the North American release, while you'll find their older stuff on Spiritual Beast.
Opener 'Venom's Angels' is full of killer riffing, awesome hooks and galloping melodies. You can feel how deep that classic Maiden influence runs, all the while being complimented by Bay Area thrashing sensibilities. 'Blow' is another kick ass track, prompting fist pumping and headbanging aplenty. You can tell instantly that Solitude would be a killer live act to go see. I love the intro to the title track, and there's loads of moments on 'Reach for the Sky' where your love for heavy metal can be reignited.
The Bay Area thrash of 'Don't Need Mercy' is classic, as well as the Saxon-esque 'You Got My Mind' and the elegiac 'December'. 'Reach for the Sky' is an album steeped in tradition and, most importantly, enthusiasm and dare I say, joy. Joy in the simple happiness of heavy metal's existence. Solitude's record is a celebration of galloping guitars, massive hooks and killer solos. Something we all need to remember to celebrate now and again. Thoroughly recommended.
http://testyourmetalrecords.bigcartel.com/
https://www.facebook.com/solitudejapan