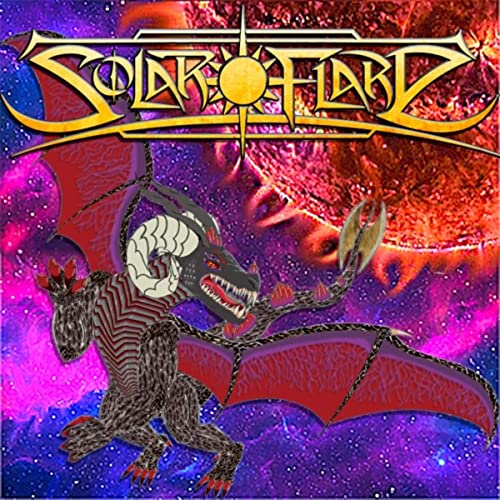 Review by Geary of War
Hailing from Cincinnati, Ohio, home of the Bengals, Solar Flare deliver a slice of old school heavy metal that might not be reinventing the wheel but does deliver a decent smile. It is out now through the band's Bandcamp.
The album opens with the galloping 'Medievil' has all the hallmarks of the bands their Facebook page declares as influences. The musicianship is clear to hear and the shredding is immediately apparent. It also ties together the feel that the bright and eye catching album cover conveys. The Iron Maiden influence is clear on 'Under the Sun' while Judas Priest is apparent on the very opening of the highlight track 'Born to Burn'. This is the track you would pick out for a mate to listen to too. The solo will absolutely have you reaching for the air guitar and pulling out some back to back shenanigans with your previously mentioned mate.
However this album is not without its foibles.
While clearly drawing from the power metal/NWOBHM world the guitar tone is a lot more distorted and muddy sounding for a band in this genre. It is great to see bands trying something new but in this instance the distortion can feel at odds with the soaring effect Ethan 'Loki' Jackson is trying to achieve. Speaking of Loki, he delivers a really solid performance and has a fantastic range. The only time I ever felt he was off the pace was some of those higher notes in the thumping track 'Pharaoh', a track which ends in a stunning battery of pinched harmonics and head banging.
As we close out the self titled album 'Taken to the Other Side' has all the signs of a crowd singing along which would no doubt be brilliant to be part of. 'World in My Head' sees the album off just as it began, at a high tempo with soaring vocals, thick sounding guitars and foot tapping gusto that leaves you smiling.
In the six years these guys have been going, you can tell they care what they are about and have talent in abundance.
That fresh new band energy comes though "Solar Flare" in spades. However I can't help but feel that with six years behind them they would feel a bit more polished and have a tone which doesn't take you out the moment as much. But overall I enjoyed this album and look forward to what they have in store next.
https://www.facebook.com/OfficialSolarFlare/
https://solarflareofficial.bandcamp.com/