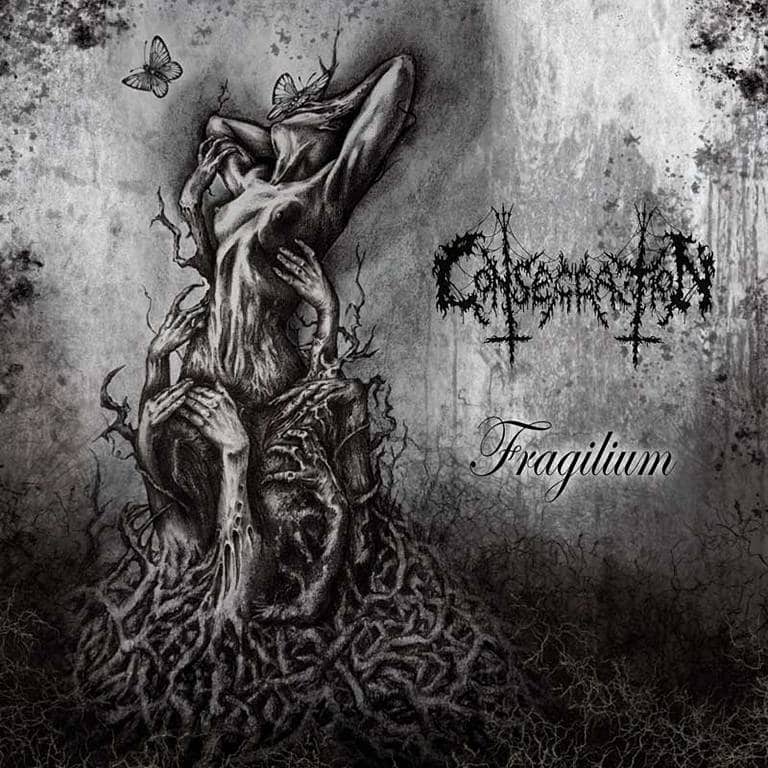 British death/doom lords Consecration have recently released their 2nd record, 'Fragilium', through Solitude Records, and it looks to follow their 2014 debut 'Ephemerality' into the realms of classic darkness, misery and bruality. I was a big fan of that record, so let's see what lurks beneath this glorious cover art.
You know you have some proper death/doom when you have 5 tracks that total over 50 minutes, and your intro is over 7 of those! Opener 'In Darkened Slumber' gently leads you forward, like the forest path in a light mist, before those darker sections in the distance. Is that a tolling bell? What is out there for us to find? The answer lies in the primal death of 'A Sentinel for the Fragile', which belches forth with guttural growls and nasty riffs. The sodden gloom of 'In Somnus Ego Morrior (In My Sleep I Die) is almost suffocating at points, while the glorious contrast of clean guitar and then crushing vocals and walls of miserable riffing comes to its natural conclusion in titanic closer 'To Welcome the Grey'.
'Fragilium' possesses all the hallmarks of a classic death/doom record; fragile emotional heft, flowing on the primordial ocean of massive riffs. Dense, mesmerising and utterly devastating, Consecration have struck gold once again. This is incredible.
https://www.facebook.com/Consecration666/
https://solitude-prod.com/?sl=en
https://solitudeproductions.bandcamp.com/