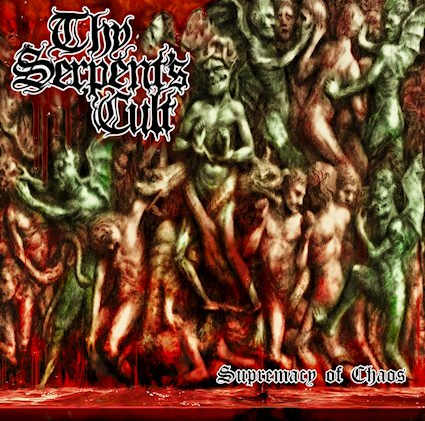 The third and final album from cult Chilean death metallers Thy Serpent's Cult is somewhat of a bittersweet moment for me, having only just discovered this band and then finding that there will be no more. I appreciate in this massive world of metal we have that we'll never be able to listen to everything, but this is SO right up my street. It is out now on Ordo MCM, and is a fitting sendoff.
Crushing immediately with the title track, Thy Serpent's Cult have an instantly gratifying old school approach to their death metal. Chunky riffing that brings to mind Bolt Thrower or Asphyx, coating in a grimy production that is pure South American. Determined to keep everything early 90s death metal, 'Diabolic Force' is defiantly and one dimensionally brutal, while the churning 'Pedophilac Priest' is a devastating blow. You could take almost any track here and be enthralled by the band's old school aesthetics, even their album cover looks like it was made in 1993.
'Supremacy of Chaos' is eleven songs in 36 minutes of straight forward, no bullshit death metal. There's no need for innovation, there's no need for anything from the past 25 years or so. Thy Serpent's Cult go out in a blaze of fire and destruction; their epitaph is their dedication to their craft and their sound. This record is a beauty.
https://www.facebook.com/OrdoMCM/
https://ordomcm.bandcamp.com/album/thy-serpents-cult-supremacy-of-chaos