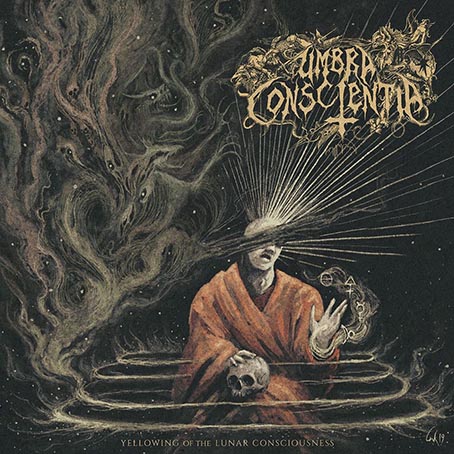 Review by Sandre The Giant
I like to find music from all corners of the globe, particularly places where I haven't really explored before. Central America is one of those places, and the debut record from Costa Rican (and German) black metal duo Umbra Conscientia had me intrigued from the getgo. 'Yellowing of the Lunar Consciousness' came out late last year through Terratur Possessions.
The eerie ambience of the intro 'El caos que precede a la creación' immediately prepares you for music coming that is not always of this world. 'Maze of Exile' erupts with blasting black metal ferocity, blastbeats peppering a landscape of scything guitar and shrieking roars. Umbra Conscientia are intense, a pyroclastic flow of prime black metal riffs cascade through the fiery 'Romance of Contradictions' and the caustic, bilious fury of 'Citrinitas'. You can feel the influence of Marduk or Funeral Mist on these guys; the relentless push forward through violent impacts. 'Umbra Conscientia' thunders like a raging tornado of hate fuelled black metal glory, while the scabrous riffing of 'Lord of Phosphorus' may be even more visceral and hypodermic sharp.
Closing with the mesmerising, undulating devastation of the title track, 'Yellowing of the Lunar Consciousness' is an album that challenges your perceptions of just how savage and hellish black metal can be without descending into lo-fi clattering and murk. Aided by a razor sharp production, Umbra Conscientia have crafted an album that lays fire upon all that has come before it and challenges anyone to pick up the mantle and take them on. I wouldn't if I were you…
https://umbraconscientia.bandcamp.com/releases
https://www.facebook.com/UmbraConscientia/