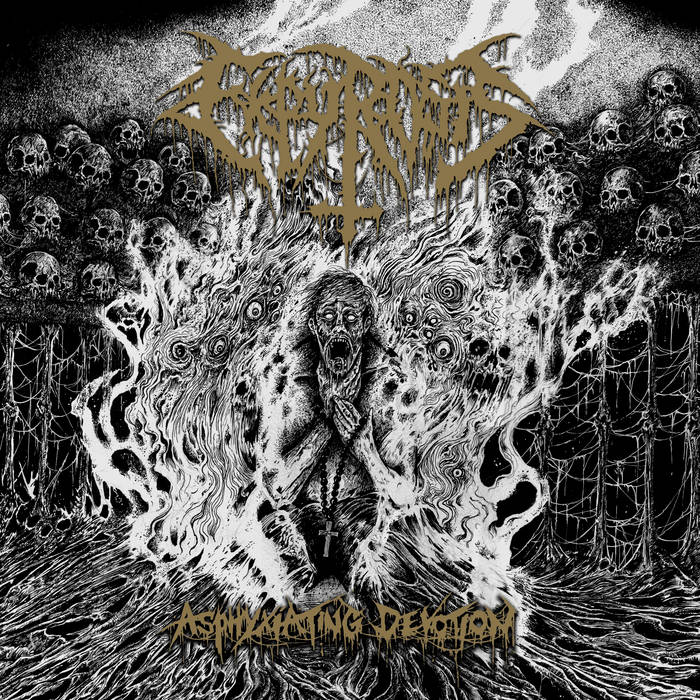 This is the debut record of Italian death metallers Ekpyrosis, and 'Asphyxiating Devotion' is a resolutely old school death metal album, channelling the glorious blasphemy of the likes of Incantation or Immolation. It is due out tomorrow through Memento Mori so you know its pedigree is going to be good.
Opening behemoth 'Profound Death' speaks volumes for their craft. A rumbling, savage monster of a track, it drips with classic death metal influences. Not just the feel of death but the inevitable, creeping decay that comes to that which dies. Chained to that morbidity is a deep aversion to religion, as the titles 'God Grotesque' and 'Morticians of God' may give away. It is a mix that has always worked well in death metal, and the Deicide-esque, waspish 'Depths of Tribulation' is testament to that fact.
The crawling 'Obsessive Christendom' is a evil favourite of mine here, flailing and scrambling across broken corpses. To be honest though, you'd be pushed to find a bad song on a record that shows a remarkable maturity for a debut. I'm saying that a lot recently, but Ekpyrosis have nailed a classic death metal sound without sounding too derivative. 'Asphyxiating Devotion' is brutal brilliance.
https://ekpyrosis.bandcamp.com/album/asphyxiating-devotion
https://www.facebook.com/ekpyrosisband