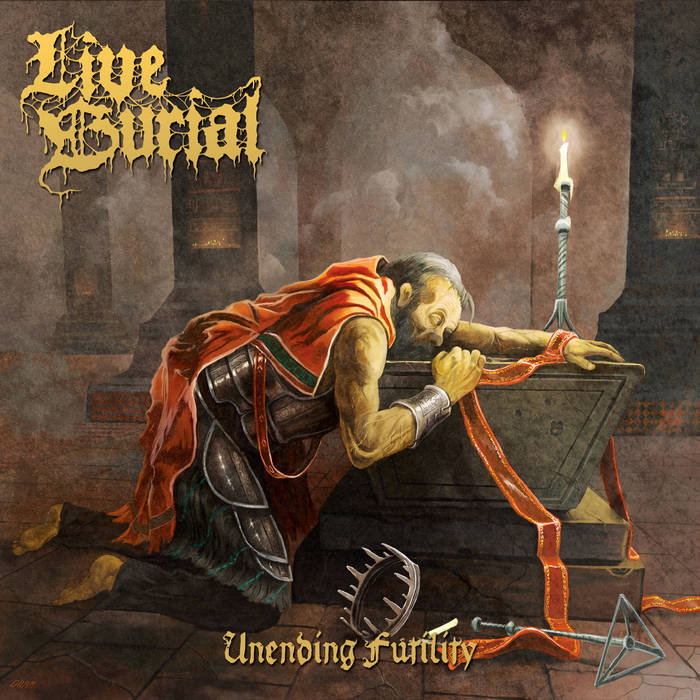 The sophomore album from Newcastle's Live Burial, 'Unending Futility', has a fair standard to live up to, as their debut 'Forced Back to Life' was an outstanding slab of uncompromising death metal. So, will this latest release from Transcending Obscurity maintain that quality or is it just a 'futile' effort? This will see the light of day in April this year.
Great slaughtered Christ, does opener 'Seeping into the Earth' put any fear of second album jitters to shame or what? A wandering bass pins down some eerie melodic leads, and when the crusted death riffs kick in proper, it is goddamn righteous. Instantly more thrashy than their debut, there's an urgency to the delivery that is intoxicating. Something old school death metal that actually has a touch of pace? 'Condemned to the Boats' barely slows down at all, while the nasty guitar tone elevates 'Rotting on the Rope' to instant classic. The uneasy, Immolation-esque sway of 'Swing of the Pendulum' is another choice example of a band not content to limit its stylistic choices.
When you're labelmates with the likes of Paganizer and Sadistik Forest, you really need to step your game up to compete. Live Burial has infested this record with a despondent gloom; heavy is the air around the cloying 'The Crypt of Slumbering Madness' and the pained howls that emanate from the epic closer 'Cemetary Fog' are the icing on a fetid, rabid cake. A cake made of nails, broken bones and rust. But it sure sounds hellish good. 'Unending Futility' is fucking superb.
https://www.facebook.com/LiveBurial
https://liveburialdeath.bandcamp.com/
https://www.facebook.com/transcendingobscurityrecords