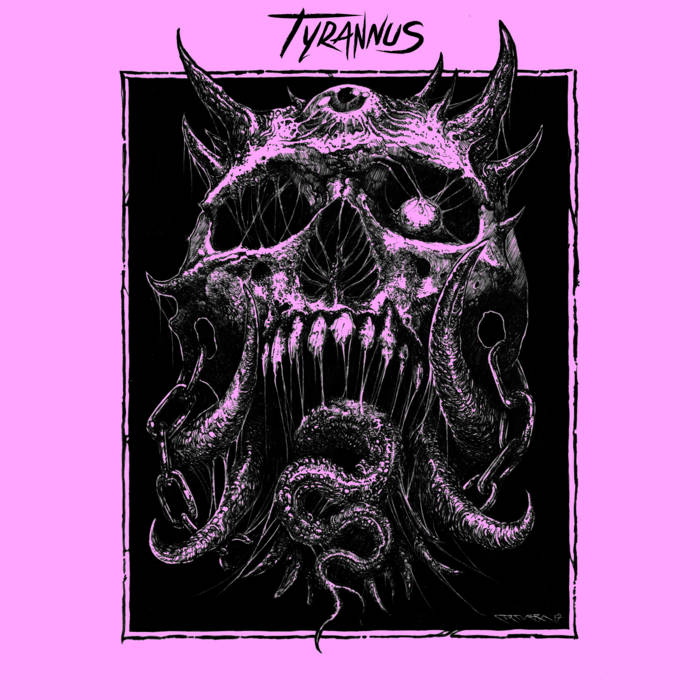 The vibrant pink cover of the debut self titled EP from Scotland's Tyrannus belies the ferocity lurking underneath. Admittedly, the demonic Chthonic skull motif might have given us a clue… It is out now through the band's Bandcamp.
Opener 'Bad Spirit' has a gnarly guitar tone, and brings to mind the earliest days of death metal when there was still a hefty thrash influence. You can feel the early Possessed and Death seeping through, while 'Demon Under Clay' has a couple of snarling Mustaine-isms in the vocals too. Megadeth is obviously an influence too, as my version includes a cover of 'The Conjuring' which is pretty ace. The production is a little rough, but in a debut EP you have to forgive that to an extent.
Closing with the almost black metal tones of the best track here, 'Repeating Misery', I'd call this a rough and ready debut performance, which can easily be tightened up with a little time. The potential is all there though, the guitar tone and fretwork is ace and the songwriting skills have definitely got a spark to them. The best debuts leave you waiting for the next step, and Tyrannus do that here. Great.
https://tyrannus.bandcamp.com/releases