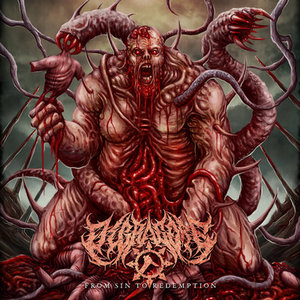 Hungarian brutal death metal sounds like a fine way to spend a wet Wednesday afternoon, and the devastation wrought by Degragore on their latest release, 'From Sin to Redemption' is crushing even by those standards. It is out now through Satanath Records.
You know what you're getting when you see the cover. Guttural growls, a dense chugging low end not unlike early Devourment, and full of horrifying samples to really get the violence and sickness of the music across. Each big slow riff bleeds with the influence of Bolt Thrower and Immolation, packed with an uncomfortable level of swaying misery, while there is plenty of grinding speed (") when required. A personal highlight for me, 'Redemption (Believe in Yourself)', is chunky fucking death and carnage and is just what the doctor ordered. There are a couple of quieter interludey moments, but generally it is just balls to the wall brutal death riffs and incomprehensible growls.
'From Sin to Redemption' is a record to put on when you want your brain pummelled into mush and nothing else. Expertly one dimensional, the brutality on display is fearsome and Degragore should be applauded for their dedication. Not every record needs to be overly complex and inventive. Sometimes you just need this, and Degragore do it superbly.
https://www.facebook.com/degragoreofficial/
https://satanath.bandcamp.com/album/sat213-degragore-from-sin-to-redemption-2018