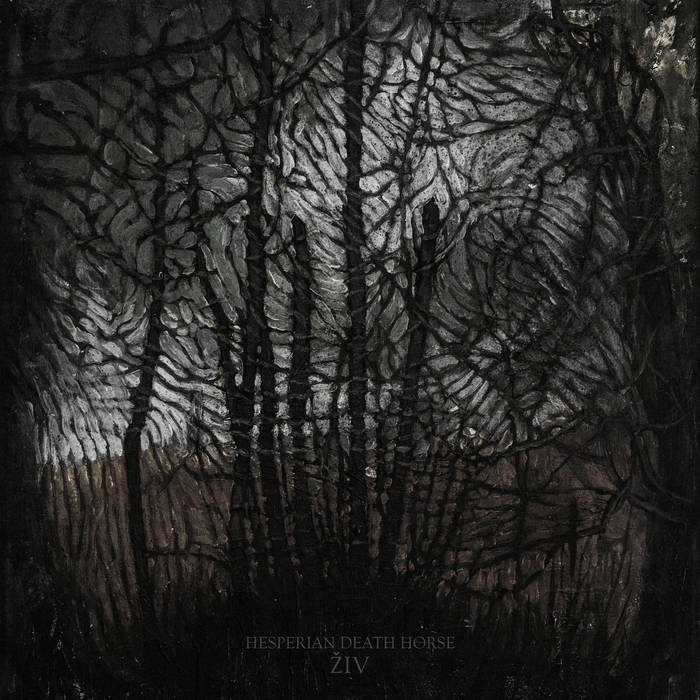 Croatian avantgarde/sludge/post metal group Hesperian Death Horse have released the second part in their trilogy of records, 'Ziv', meaning 'Alive'. This follows on from 2013's 'Mrtav' ('Death') and will see a final part in 2020 called 'Rodjen' (Born'), creating a cyclical musical journey that we can all relate to. It was self released by the band in August.
Bleak, atonal clean guitar floats out of opener 'Saol (Part 1: Prizma)', creating an uncomfortable atmosphere that builds and builds. An almost black metal vibe creeps throughout, with distorted guitar shimmering behind ritualistic vocals. It's all a little weird, but in a good way. 'Elu (Part 2: Voda) drives forward, harder but with the same eerie vibe. The atonal clashing, almost psychedelic rhythms of 'Hayot (Part 3: Mezanin)' is hypnotic, weaving strange esoterica in the almost foggy atmosphere generated here. The closing 'Liv (Part 4: Horde)' sounds like a wormhole vomiting otherdimensional terror on an unsuspecting world, and will leave you shivering.
'Ziv' is a fascinating piece of music; a swirling, miasmic entity that is impossible to pin down to a genre or even a melody sometimes. Riffs sway in and out, heaviness is achieved more through the otherworldly weirdness than basic guitar and bass work but nonetheless Hesperian Death Horse have wrought mesmerising shapes from the darkness. Enthralling stuff, and I look forward to the completion of the trilogy.
https://hesperiandeathhorse.bandcamp.com/
https://www.facebook.com/HesperianDeathHorse/