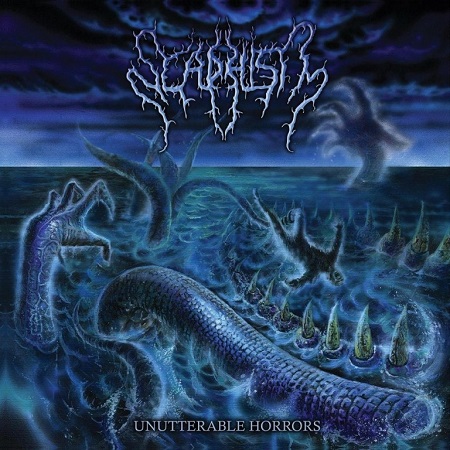 Released in the last few days, the second record from Boston's Scaphism is titled 'Unutterable Horrors', and it looks to improve on their debut 'Festering Human Remains', out in 2012. Horror Pain Gore Death Productions is handling this one, and it looks like they have found another low key gem in the American underground.
Opening with the excellently titled 'Gruesome Unmentionables and Unutterable Horrors', Scaphism immediately strike you as a band influenced by the early, rough and raw death metal bands. They lack the razor sharp finesse of modern death metal, coming across much more as disciples of early Death, Massacre or Malevolent Creation, and this suits thems well. Clattering drums assault the landscape while twisting guitar riffs layer labyrinthine walkways for us to travel upon. 'Vaults of Pestilence' has a cool, crawling chaos vibe that reminds me of Immolation's earlier works, while the rumbling, rusted melodies of 'Trepanate the Undesired' is an unconscious earworm.
Simple but deathly effective, 'Unutterable Horrors' is a record designed purely to bring the thrashy roots of death metal back to the fore, and meld that into a modern sense of ugly and miasmic death metal. Scaphism's work here is solid and utterly charming in its execution, reminding us all about how death metal used to sound before Pro-Tools and shiny artwork took over.
http://horrorpaingoredeath.com/
http://scaphism.bigcartel.com/