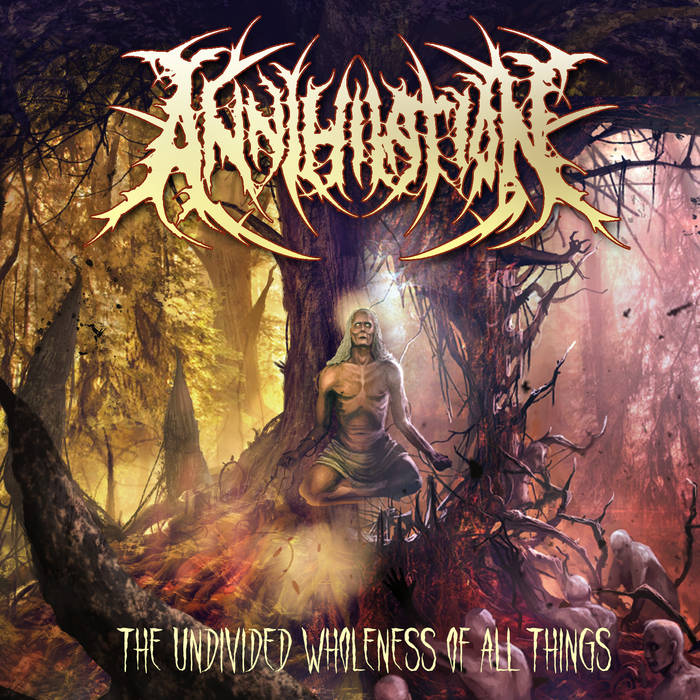 Portuguese death metal titans are unleashing upon this doomed world their new record, 'The Undivided Wholeness of All Things', and it is set to be an exercise in pure carnage and destruction. It is due out in a mere couple of days (28th November) from Nice to Eat You Records, and looks to establish Portugal as a underground hotbed.
You can guess exactly what you're going to be up against with an album cover of such lurid threat; chugging riffs built with the densest guitar tones echoed immediately in the opening 'M.A.S.S.', leading into the churning thunder of 'Universal Dismal Collapse', which plows the deepest furrows of heaviness. Like a titan beast risen from the depths of the oceanic abyss, Annihilation belch forth brutal death metal that doesn't quite slam, or widdle, it just crushes. Imagine latter Suffocation with that otherworldly feeling that prime Morbid Angel gave you and you're almost there.
Brutality is second nature for death metal bands these days, but Annihilation seem a little off centre, which helps their riffing and songwriting remain interesting. The modern classic that is 'The Illusion of Time and Space' acts as a tectonic centrepiece to an album that shifts, changes, evolves from mere one dimensional brutality to fourth dimensional destruction. The menacing crawl of 'Omniverse' personifies this record perfectly; Annihilation sneak up on you slavering and ready to devour.
https://annihilationband.bandcamp.com/
https://www.facebook.com/annihilationpt/