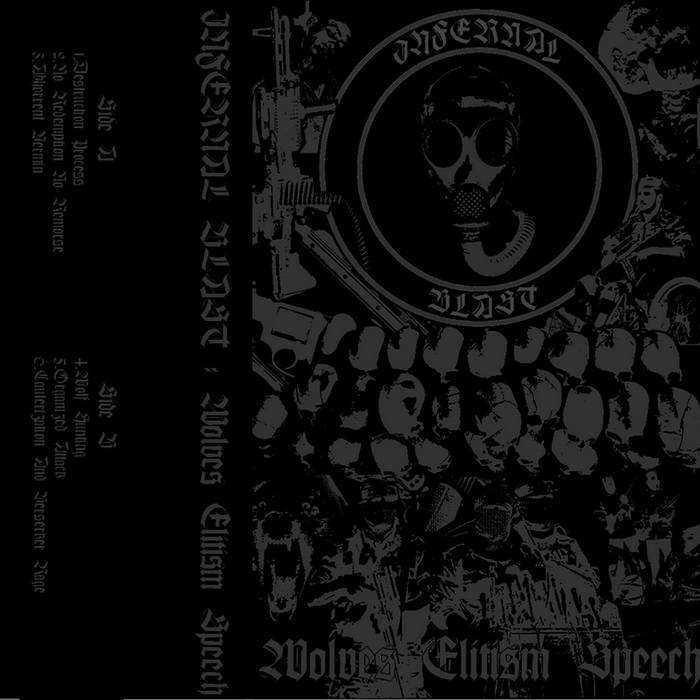 This striking French black metal debut from Infernal Blast is  a torrent of violent, dark war metal. 'Wolves Elitism Speech' has no agenda other than to tear you apart from the ears down, and is another example of how far one man bands have come from badly produced bedroom acts. The cassette is out on 17th November through War Arts Productions.
Opener 'Destruction Process' is a vicious, barrelling nightmare of a track, with an eruption of blastbeats peppering a murky and dense guitar attack. This style continues undaunted throughout, from the carnage of the short 'No Redemption No Remorse' to the unremitted barbarism of 'Wolf Hunting'. There isn't a lot of room for variation but in a seventeen minute release you don't need it. The creepy samples provide respite enough between the kind of metal that personifies how life is going; bleak, barbaric and dehumanising. 'Wolves Elitism Speech' has no care for you, it merely provides a dirty window into our future.
Infernal Blast have a bright future. Well, bright like a nuclear holocaust bright, as their music is apocalyptic, visceral and comes from the primal instincts of man for violence and savagery. 'Wolves Elitism Speech' claws and slavers at you, and it is ready to be unleashed on the wider world.
http://war-arts-productions.com/
https://war-arts-productions.bandcamp.com/album/infernal-blast-wolves-elitism-speech