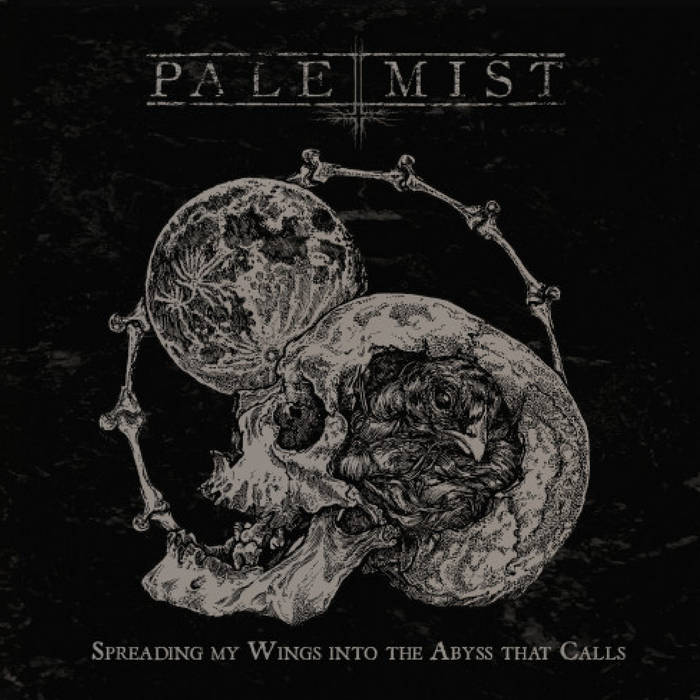 UK black metallers Pale Mist have come from out of nowhere for me, but their new release on cassette, 'Spreading My Wings into the Abyss that Calls', is a proud new member of my collection thanks to the good folks at Heidenwut Productions. This is an archetypal black metal release, but one that balances the atmospheric requirements with an almost lunatic delivery at times. Atmospheric as fuck, Pale Mist deliver.
The aching tremolo of 'Through the Thick Fog of Misery and Woe' drifts from your speaker, leaving a trail of frost behind it. Pale Mist are definitively bleak and ghostly. Building anticipation for inevitable blizzard conditions is something that black metal thrives upon, and Pale Mist have nailed it as the torrent of blackened majesty that is 'Spreading My Wings into the Abyss that Calls' begins. Maddening shrieks spill from icy riffs and gloomy walls of sound.
But the centrepiece is the epic caldera of 'Embraced by the Pale Mist', that spews volcanic riffage upon us all before the wistful gaze of 'Gazing, Opening the Barriers' provides a welcome calm spot, laced with melancholic clean guitar. Closing with the bleak 'The Welcoming Glow of the Moon' that spirals into the wilderness, Pale Mist are seriously impressive, and this release is an opening into a world of ice and darkness.
https://palemist.bandcamp.com/album/spreading-my-wings-into-the-abyss-that-calls
https://www.facebook.com/palemistofficial/
https://www.facebook.com/heidenwutproductions/