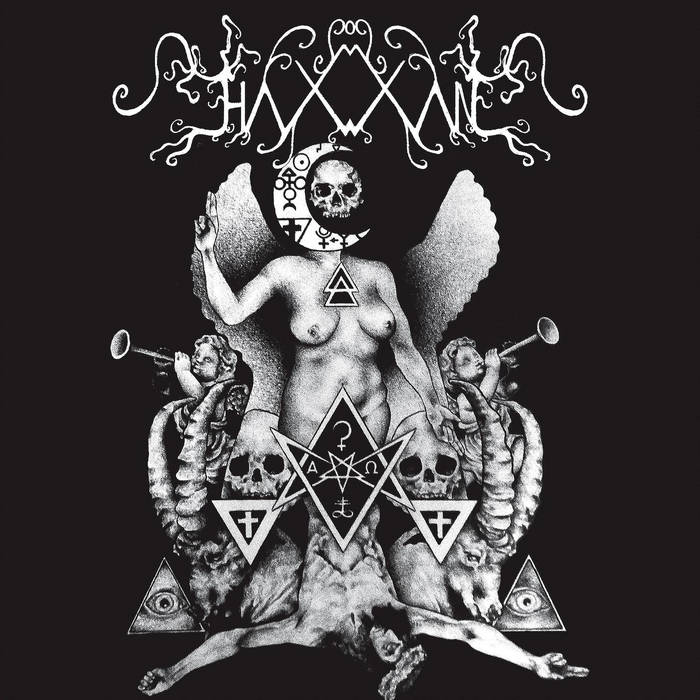 Long time followers of the metal creed may not know HAXXAN, as this is a new band but featuring Killjoy DeSade from legends Necrophagia. HAXXAN is a black metal offering of tribute and influence to one Aleister Crowley, of whom Killjoy is a great enthusiast. Bringing together musical influences from Candlemass, Beherit and Bathory with more than a dash of Celtic Frost, HAXXAN are an untter joy to behold.
Opener 'Loch Ness Rising' is a stomping slab of proto-doom, with Killjoy's throat shredding vocals scowling over swaying riffs and creepy samples. Possessed of a cold spirit, and an uneasy tension that absorbs through the skin, HAXXAN feels more like a rhythmic ritual conjuring than a simple black metal record. The moody '93' is a highlight for me, as is the uncomfortable atonal 'Babalon', If the purpose of this record was to invoke those same, mystic darknesses of Crowley then it has been achieved.
The churning 'Chemical Perversions' is probably the closest to a 'perfect' HAXXAN song; encompasses everything from their mid tempo thrust, their mystic atmospheres and their harsh, evil vocals. The guitarwork is simple yet grindingly effective, hypnotising your brain with swirling riffs. This is an excellent record, showing that speed and blasting is not all black metal can be. It is the feeling that counts, and 'Loch Ness Rising' has it in spades.
https://www.facebook.com/Haxxan-174927032567336/
https://haxxan-ohio.bandcamp.com/album/loch-ness-rising
http://www.hellsheadbangers.com/