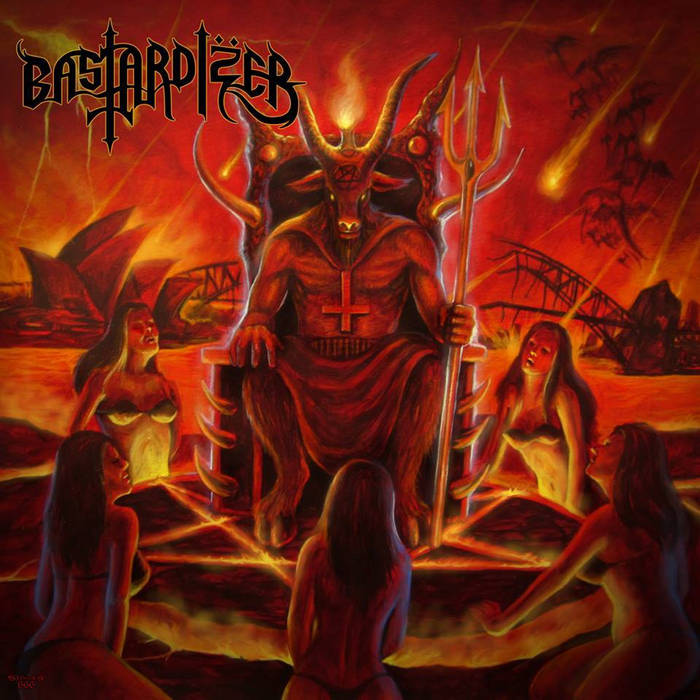 I just got a hold of the rerelease of Australian blackened thrashers Bastardizer's 'Enforcers of Evil' from Carvetii Productions, on a brand new shiny cassette no less! It seems that, outside South America, Australia seem to do the whole Bathory/Venom/Celtic Frost axis worship a great deal of credit, and Bastardizer are no exception.
This is a truly raging slab of blackened thrash metal, with the ethos summed up pretty accurately in the killer opener 'Bastard, Bullets, Bitches and Beer'. Almost entirely forgetting anything was invented after about 1983, taking the Venom blueprint and dragging it south of Heaven,c ranking up the intensity and increasing the rawness tenfold. The savagely catchy 'Bathory and Lust', the rampant title track and the rough and ready 'WWIII' are all tremendous tracks and pay tribute to the vibrancy of the Australian scene.
The awesome, early Sodom riffs that populate 'Eureka' crop up many times, with a grim Teutonic flair shredding through 'Pentagram of Pleasure'. Bastardizer strap Motorhead to Sarcofago and see what happens. Turns out what happens is infectious, rabid thrashing black metal that doesn't rely on gimmicks, controversy or fashion. There's a shit ton of bands like this out there, but none come close to the filthy fun that you get on this record. I fucking love it, and so should you!
https://www.facebook.com/bastardizer666/
http://carvetiiproductions.bigcartel.com/product/bastardizer-enforcers-of-evil-australian-blackened-thrash-cassette
https://bastardizer.bandcamp.com/album/enforcers-of-evil