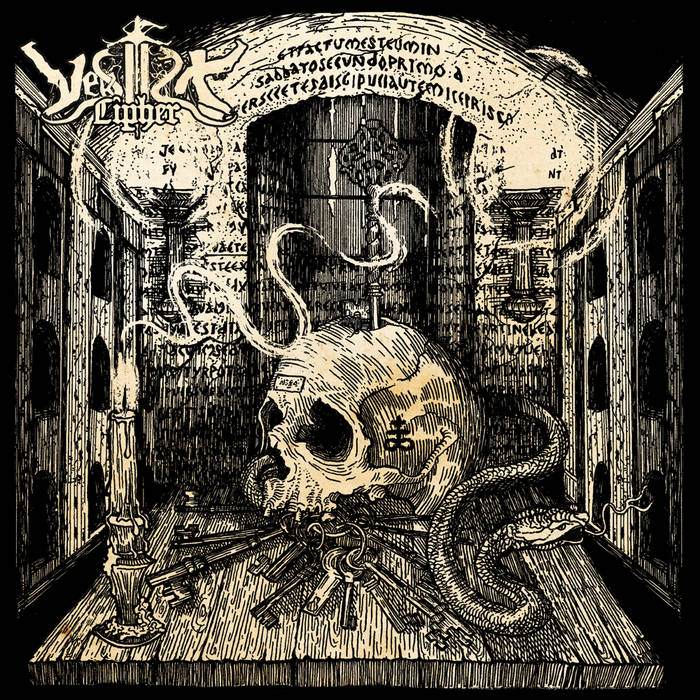 Nova Scotia, Canada is one of the more remote parts of this world, and with the caveat of Canadian black metal firmly entrenched in the expectations of the new EP from Versifist, you cannot help but have high hopes for 'Cypher', brought to us by the unholy duo of Vault of Dried Bones and Iron Bonehead. A scathing pair of songs awaits us…
Swarms of riffage roar from first track 'Bring Back the Dark', while an uneasy atmosphere settles in. Punishing black metal blasting writhes within a deathly cocoon, showering your ears with molten fury. A cold, merciless attitude brings to mind Watain, while a decrepit aura shrouds each shriek. Second track '…In Tongues' rises from its grave with insistent acoustic guitar; building the anticipation and the gloom. It morphes into this twisting, soaring slice of esoteric black metal that has this distorted, ugly beauty about it.
If you can find the time to drop the funds, get a hold of this 7" and support this band. Whatever is yet to come from them is going to be excellent if 'Cypher' is any indication. Raise thy horns.
https://vaultofdriedbones.bandcamp.com/album/cipher
http://www.vaultofdriedbones.com/
https://www.facebook.com/VaultOfDriedBonesOfficial/