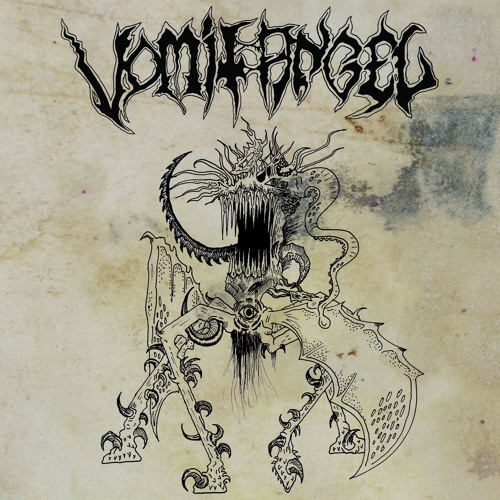 This Danish duo have managed to cleave a great band name from the great metal name quarry, unique as well as evocative. Having their debut EP out on Iron Bonehead also tells you what to expect, as well as the quality underneath. Founding members of Sadogoat, and part of the equally ugly Sadomator, these guys have been spewing unholy black/death into the ether for a long time.
Opener 'Sadomator' is a thudding, rough and ready slab of retching death metal with dense, blackened overtones. That's what you can expect here; some of the most primal death metal stuff there is. This is like an archaic discovery, hidden amongst brutality and technical sheen where the death spirit lives. The relentless 'Voices in the Wind' moves with primitive fury; lacking grace and subtlety but making up for it with purity of spirit. This is an eighteen minute assault on anything new and shiny. This is the death metal dragged from mossy crevices; from swamps of cloying tar, from darkness itself. Only that can explain the truly awesome rumble from 'Female Goat Perversion'.
Vomit Angel are for those of us that can shy away from clean, sharp brutality and embrace the rawness, the murky fetid belch of the likes of 'Host of Darkness'. The doomy blasting of 'Time of the Moon' is my highlight on an EP that should start the wheels turning on a full length. Awesome, nasty shit.
http://www.ironbonehead.de/frame.htm
https://ironboneheadproductions.bandcamp.com/