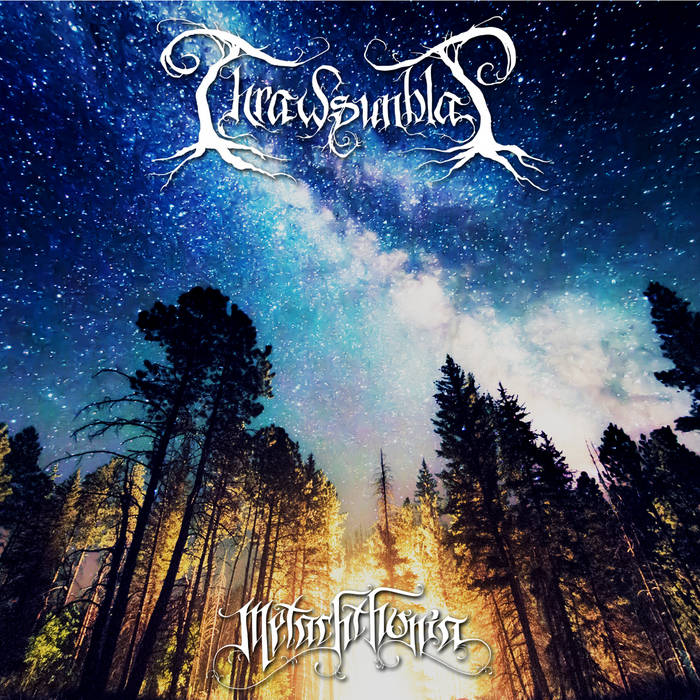 Epic blackened folk metal is what to expect from the glorious new record from Canadian band Thrawsunblat, following on from their previous piece of dark art, 'Thrawsunblat II: Wanderer on the Continent of Saplings'. It is being released for the first time on vinyl by Broken Limbs Records, and it's sure to give new life to the soaring savagery hidden beneath.
'Fires That Light the Earth' is everything you could want in a long, powerful blackened folk metal song; replete with clean vocals and infectious melodies. Acoustic sections are woven into songs, rather than added as mere separate interludes; this really helps to make them integral to the album, rather than throwaway pieces. There's clearly a raging black metal heart beating at the centre of Thrawsunblat, but rarely has that been so vibrantly paired with such uplifting and powerful music as it is in 'She Who Made the Stars'.
Fury reigns in the blasting strength of 'Dead of Winter', but again it isn't uncommon for Thrawsunblat to weave disparate paths into a single, glorious whole. Blastbeats flood the land, while folk melodies swoop in on icy winds of black metal. It's incredibly evocative, and probably is the best example of true atmospheric black metal this side of the likes of Chiral or Panopticon. Closer 'In Mist We Walk' is chilling in its touch on your emotions, pulling strings expertly to achieve its blackened goal.
Thrawsunblat have thrust a last minute challenger to my albums of the year list. Not that I put one of those together anymore, but it has definitely moved well up into my most listened. A spine tingling, emotional rollercoaster that'll suck you in and leave you breathless.
https://thrawsunblat.bandcamp.com/
https://www.facebook.com/thrawsunblat