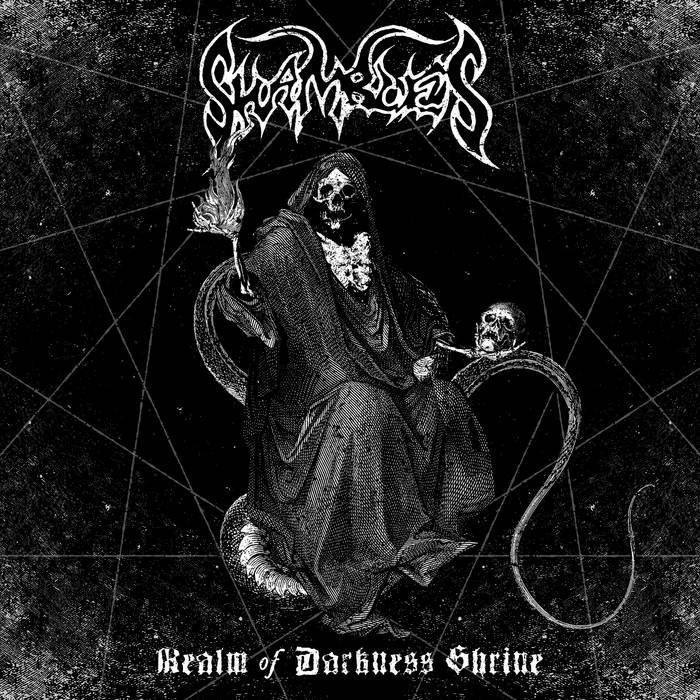 Having just returned from a sojourn to Thailand, I was amazed to find this Thai death metal band in my inbox. I didn't have time to do any research into metal of South East Asia before I went away, but if Shambles are indicative of the kind of band I would find, I'll be doing some digging very soon. 'Realm of Darkness Shrine' is out now on vinyl through Nero One Records, and hopefully soon in Europe on Blood Harvest.
Opener 'Rosarium' is instantly one of the heaviest things you'l hear this year. A potent mix of deathly doom, a Swedish death metal guitar tone and vocals that sound like the cracking of the earth, Shambles make an instant and vital impression. Conjuring the long dead ghost of Winter, with a flesh tearing riff that could have crawled from any classic Grave record, Shambles are unfathomably heavy. You can compare them to Autopsy, but even those legends didn't have this crushing low end crawl that Shambles do.
An unholy roar fills the 'Realm of Darkness Shrine', making your skin crawl as you are subjected to a relentless and eldritch assault. You can almost feel the claws of darkness upon you, like manic reanimated corpses ready to feed on your life. There is no light, no mercy and no respite here; Shambles craft moss covered riffs, almost ancient in their primal power. The grinding rumble of 'Onward in Chams', the cataclysmic closer 'Bitter Abysmal Depths'; pick any track here to immerse yourself in utter morbidity. Superb!
https://shamblesdeath.bandcamp.com/
http://www.neroonerecords.com/