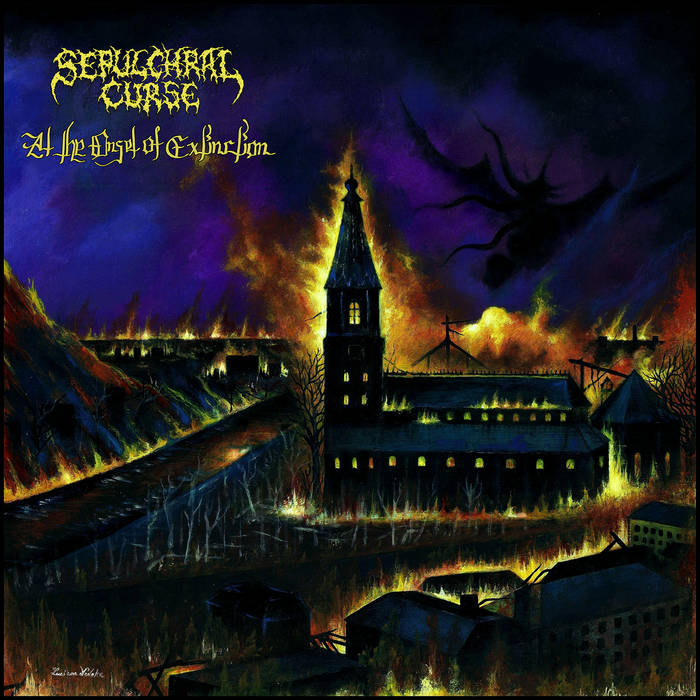 When you're faced with artwork of a burning church, and a ghostly black figure disappearing off into a dark sky, you immediately would expect it to be black and white, and be full of Satanic black metal anthems. Well the vivid colours of the new release from Sepulchral Curse, 'At the Onset of Extinction', will dispel that myth, but don't think that it isn't still an album writhing with dark energies…
Sepulchral Curse are Finnish, and therefore are expected also to have that lonely, Finnish melancholy running through their music. That's not the case here at all; what you have is four tracks of hellish brutality, meshing black metal aesthetics to brutal death metal riffs. The vocals are cavernous, inhuman growls shot through with screams when required. Opener 'Envisioned in Scars' is a relentless, chainsaw riffed monster that barely slows in its attempt to sever sinews.
Conjuring the dark spirits of legends like Demigod or Convulse, each song carved by Sepulchral Curse has an innate darkness to it. An almost smothering presence, coating each track like black oil. 'In Purifying Essence' bulldozes like prime Bolt Thrower, while showcasing some nice bass work, and the wind tunnel of 'Gospel of Bones' is a thing of savage beauty. But epic closer 'Disrupting Lights of Extinction' is where the real power lurks. A lumbering behemoth of ancient riffing, this is where some, just a little, of that melancholic vibe creeps in. It struggles to show amongst crashing waves of death metal, but its there if you look for it.
'At the Onset of Extinction' is a great record, and another powerful statement is made for death metal in 2016. With bands like Sepulchral Curse flying those tattered banners, only Death is real. Excellent.
https://sepulchralcurse.bandcamp.com/album/at-the-onset-of-extinction-blackened-death-metal