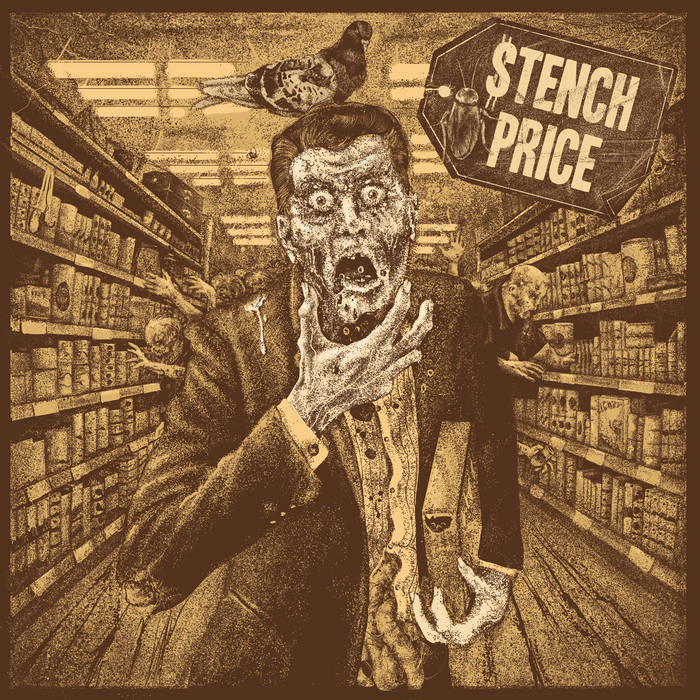 When you get the pleasure of reviewing a release from what is an honest to Satan grind SUPERGROUP like Stench Price, it kinda gives you faith in life and music again. I review lots of shit I love, hear bands that seem totally underground and unknown and I hope to give them a bit of extra publicity from it. This one however, this I'm doing simply because it is AWESOME! Involving members of Brutal Truth, Necrophagist, Cynic and Hail of Bullets, this barely needs any press release bullshit, the pedigree speaks for itself. It's going to be out on Transcending Obscurity for all to enjoy.
Opener 'Living Fumes' is a massacre of the senses; with raging grinding riffs coupled with a blood gargling vocal, thrashing drums and some weird samples to throw everything just a little off kilter. The marimba (yes marimba) sections are gloriously off the wall, and help to accentuate the savagery of what follows. 'Furnaces Burn', featuring the legendary Rogga from more bands than you can name, has this excellent chugging death style with maddening solos that is just too short and sweet for one listen. Yet more smooth, jazzy interludes stab into the metal throughout, jarring your perceptions.
The guttural 'Pressure', lunging from blastbeats to freaky moments of calm and back into bludgeoning grind, is a challenge to take in at once, while the more straightforward, almost Obituary-esque rage of '4.27.15' is a pleasant change. The chugging power of 'The Genocide Machine' is my own personal highlight here, since I'm more of a death metal fan than a grind fan, but the vareity and quality of the material here is enough to keep a fan of any genre persuasion interested.
Closing with 'the bossanovagrinddoom' (NEW GENRE ALERT!) of 'The Vitality Slip', Stench Price make a devastating impact straight away, and you can only look forward to what else will come spewing from this project in the future. Hail grind and supergroups, because this is a great example of both.
http://stenchpricegrind.bandcamp.com/album/stench-price-grind-supergroup