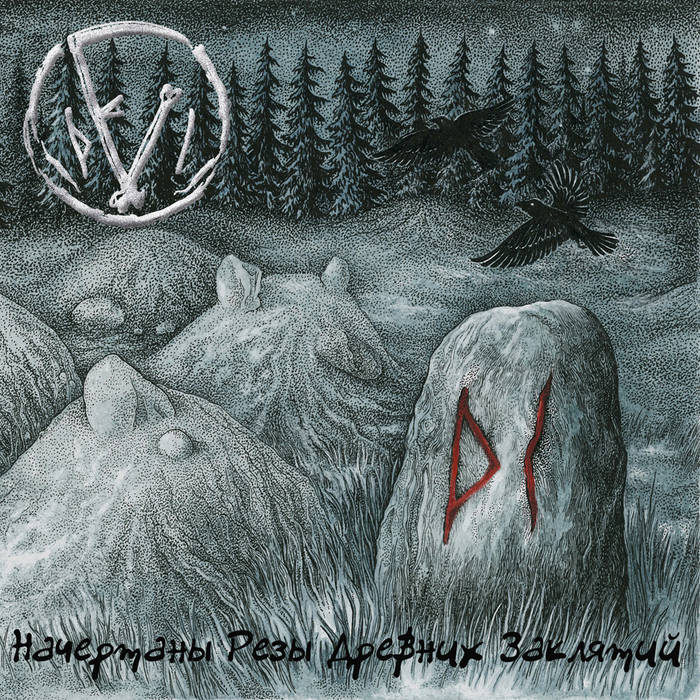 Russian pagans Fimbulvinter dropped their debut full length last December, the incomprehensibly titled 'Начертаны резы древних заклятий' (for me since I know no Russian at all). It's been out on Symbol of Domination, who are a label whose releases I am picking up more and more these days, and the quality is generally high, so I'm looking forward to it.
'The Shining of North' (I decided to translate the names) throws open this gate of frozen riffs that flow like a river in the forest; cold but melodic is the key. Too often black metal bands rely on mere ferocity and blasting without incorporating memorable riffs or melodies. Very rarely are the one dimensional bands ever remembered. Fimbulvinter don't fall into that trap, by mixing in dark melodies into their assault, and a particular Dark Funeral vibe clings to each riff. Insidious pagan melodies lurk under the icy 'Winter Millenia', and vicious vocals pierce 'Swarms of Raven's with aplomb.
'Начертаны резы древних заклятий' is a record that doesn't stray too far from your traditional black metal dynamics, but instead takes the path of improving and enhancing the genre. Not every band can reimagine genres, but not every band needs to. Fimbulvinter are a band who have crafted an album with great songs, good atmosphere and most importantly, a replayability factor. You barely need to get past the visceral 'Broken, Torn…' to know that the following half hour is going to be a good experience.
Closing with a double hit of viciousness in the scathing 'To Father North' and the gloomy 'The World Will End', Fimbulvinter have nailed it with this record, and I hope to hear a lot more from them! Hail ice and fire!
https://www.facebook.com/fimbulvinterofficialrus/?fref=ts
https://symbolofdomination.bandcamp.com/album/sodp037-fimbulvinter-2015