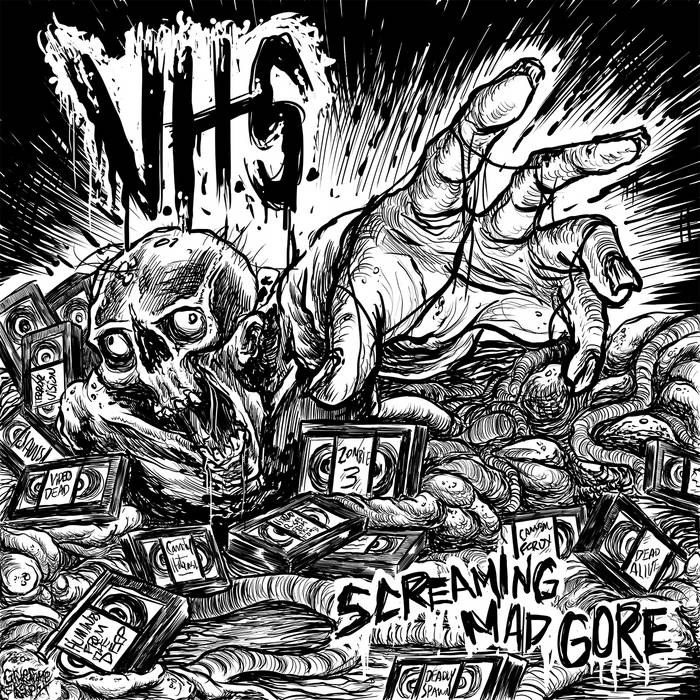 VHS are Canada's answer to a metal melting pot, and their 'Screaming Mad Gore' debut on Splatter Zombie Records is a veritable smorgasbord of different influences, from classic B-movie schlock with thrash, punk, death metal and enough splatter to fill that thirty four minutes. It's got a pretty straight to the point cover too, which is refreshingly not lurid colours!
If you blink, you might miss some of the more high speed tracks here, particularly the breakneck title track at a brief but battering eighteen seconds. There's a definite muddy death metal influence over the rapid fire thrash riffs, and the endearing smash and grab of tracks like 'Stomped' and 'Choke on It!' betray an early 90s Florida vein. Mix this with a snotty, punk/thrash attitude, and lashings of 80s B-movie gore and you've got the recipe for something pretty damn entertaining.
The longer, slower tracks are also pretty good too, showing a different thread to the blood stained bow of VHS. I particularly like the rumbling 'Fornicating in the Furniture Store', and the positively rocking 'Hairspray and Bloodspray' with its 80s hair metal riffing. VHS have injected a healthy dose of fun and musicianship into a record that could have easily been one dimensional and bland. 'Cavity Crawlers' and 'From Inside' bring to mind prime Autopsy, while the gloriously manic 'Radioactive Rat Attack' is another highlight of a record that keeps on giving!