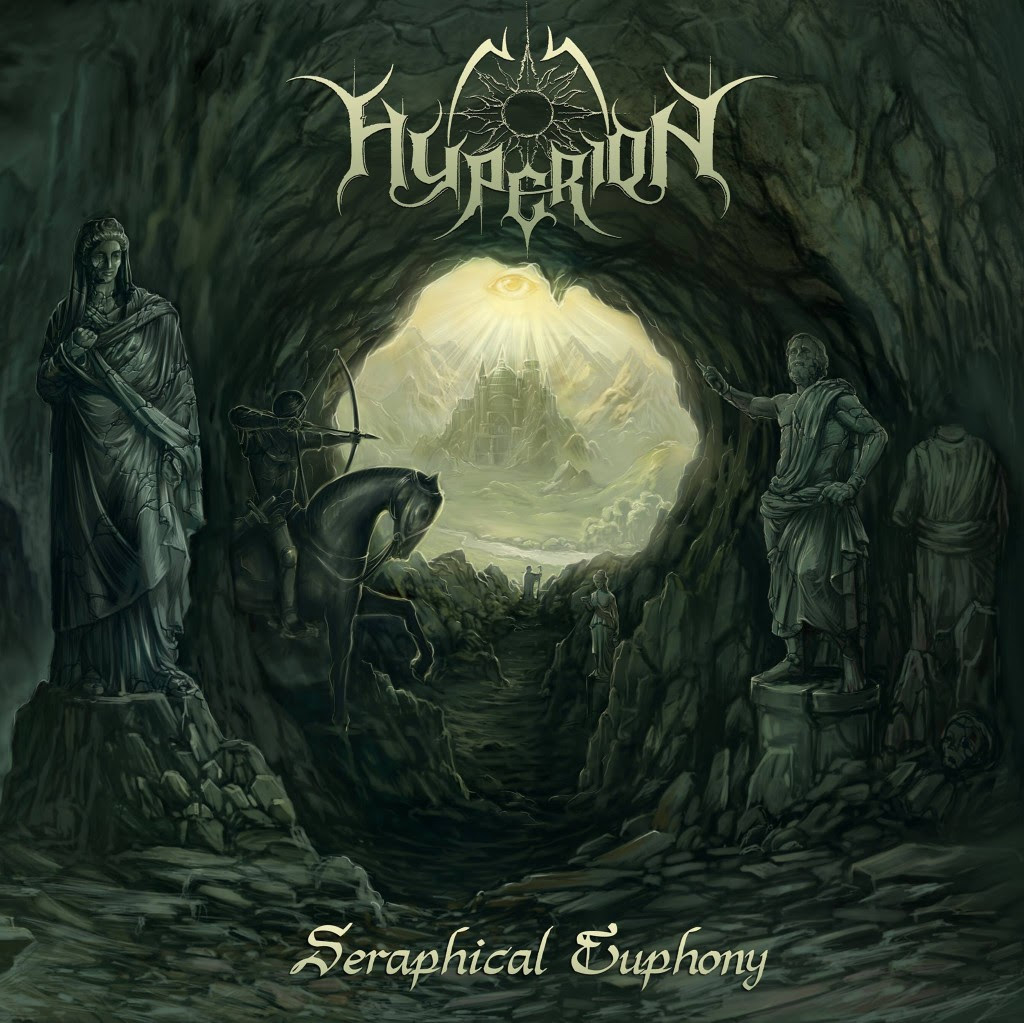 'Seraphical Euphony' is the debut record from Swedish extremists Hyperion, out now on Black Lion Productions. An album that gracefully mixes the extremity of death, the bleak ferocity of black metal and the underlying melodies that Swedish bands are famous for.
After the swelling intro 'Remnants of the Fallen', 'Novus Ordo Seclorum' explodes from the speakers like the ghostly spirit of Dissection reborn. Relentless double kicks power along this beast of a track, where black melody couples with baring teeth and a vicious snarl. Sections of acoustic guitar relieve the pressure slightly, but when you have lead guitar work liek this, you never want it to end! 'Flagellum Dei' is another scorcher, with rabid fretwork and a insidious set of melodies.
The huge title track is the centrepiece here; eight plus minutes of graceful black metal with a dense low end and wonderfully written sections. There's bleak blackened blasting, some almost pagan metal melodies and a soft, piano part that is a brave step but ultimately confirms the band's maturity. An album that claims to 'bombard listeners with countless, various elements of musicianship', could end up as a total clusterfuck, but the legacy of the likes of Dissection, Watain and even At the Gates looms large. 'Moral Evasion' is fucking killer too and is probably my favourite track on the record.
Ultimately, 'Seraphical Euphony' is an album full of excellent black/death metal, with spiralling fretwork frenzies, delicate acoustics and so many riffs. You'll really feel the quality of tracks like 'Zephyr of Grace' when you're humming the insatiable melodies for the next week. Sure its brutal, but the brutality is as equal a part to proceedings as the catchy parts are. Excellent stuff!
https://www.facebook.com/HyperionSwe
https://hyperionswe.bandcamp.com/releases
http://www.blacklionprod666.blogspot.co.uk/
http://blacklionprod666.bigcartel.com/
https://blacklionproduction666.bandcamp.com/